Ask the agent
January 7, 2022
Property Housing Market Report: September 2021
Key statistics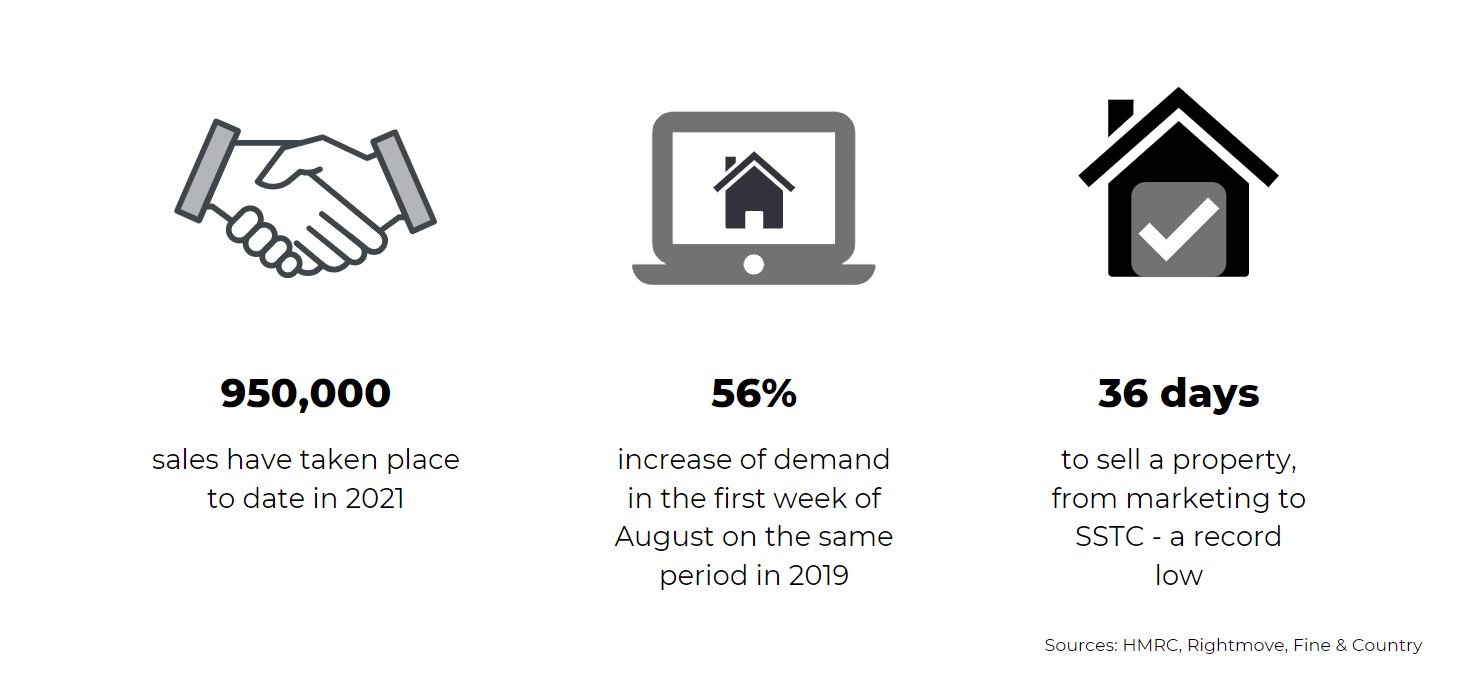 A year like no other
House price growth across the UK is at its highest level in 17 years, with double-digit increases in all regions except for London and Northern Ireland. While price growth may moderate over the coming months, for many the reassessment of 'home' post-pandemic continues, and 2021 will undoubtedly be a year to remember.

In the last 12 months, all regions of the UK except for London have seen a 12.6 percent or higher increase in house prices. House prices increased the most in Yorkshire and The Humber with an 18 percent annual change, followed closely by the South West with 17.3 percent, North West and West Midlands increased by 17 percent, year-on-year.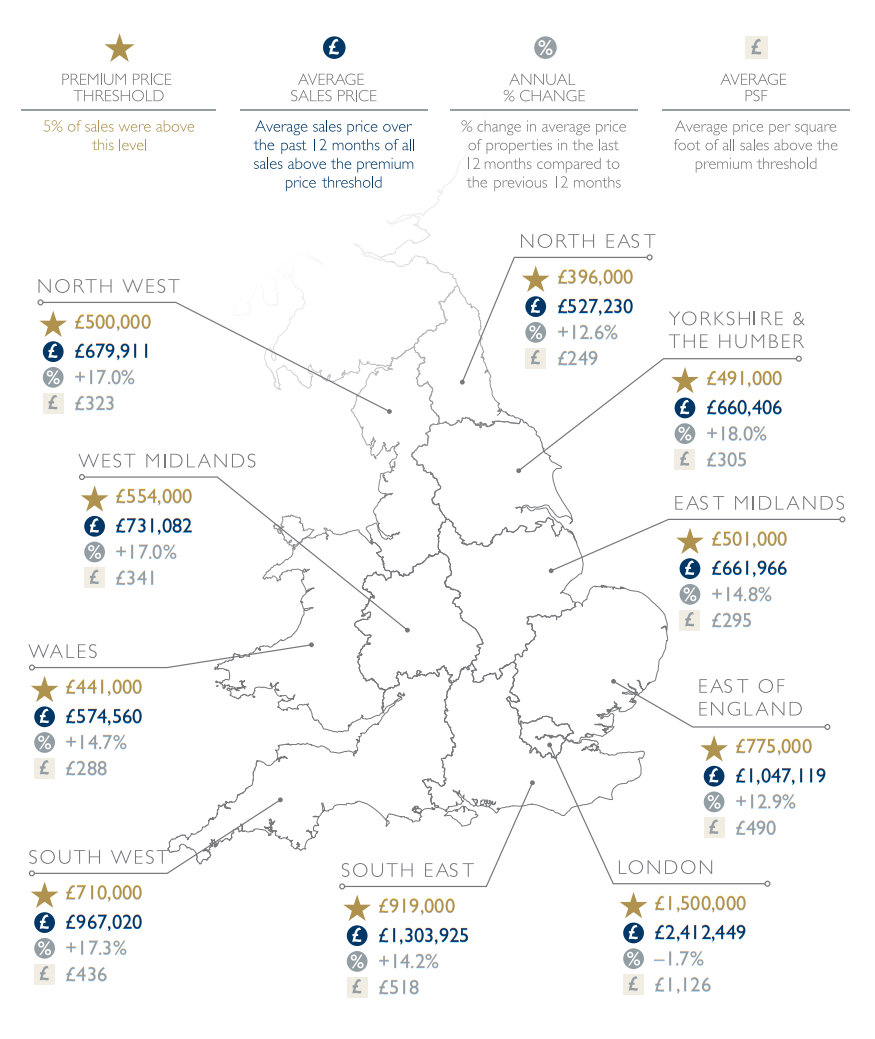 Eye-watering growth
The UK experienced a 13.2 percent annual increase in average house prices in June 2021, the largest annual increase recorded since November 2004. According to the UK House Price Index, the average price of a UK property is now £265,668, nearly £31,000 more expensive than this time last year. Back in November 2004, the average price of a property was just shy of £152,000, a rise of 13.7 percent and the equivalent of just over £18,000 in a year. Price growth is currently strongest in Yorkshire and the Humber, Wales and the North West. Across the South West and South East of England, the average price of a property is now over £35,000 more expensive than a year ago.
There are early signs that price growth is beginning to slow slightly. Nationwide report a monthly decline in July house prices of 0.5 percent, and Rightmove that average new seller asking prices were 0.3 percent lower in August, month on month, the first price drop of 2021. This was led by a 0.8 percent fall in asking prices for upper-end, four-bedroom-plus properties, where buyers are no longer able to make significant stamp duty savings. However, the demand and supply imbalance will ensure any price change is moderate and the majority of agents still anticipate price rises over the next twelve months.
Market remains busy
Unsurprisingly, HMRC report a significant drop in sales figures in July. An estimated 73,740 sales took place, 63 percent lower than in June and the lowest monthly total in a year, thanks to significant forestalling of activity prior to the SDLT deadline. However, over 950,000 sales have taken place to date in 2021, making it the busiest sales market since 2007, with predictions that 1.5 million sales will complete by the end of the year.
The market is still fast moving and demand remains high. Although down on peak levels of activity earlier in the year, the Bank of England report mortgage approvals in July remain 13 percent higher than the long-term July average (2015-2019). Rightmove report demand in the first week of August was up 56 percent on the same period in 2019, and just 17 percent lower than in the pent-up, post-lockdown period of 2020. Zoopla note that sales agreed in August were up 21 percent when compared to 2018 and 2019.
A month to sell
With new instructions to the market remaining considerably lower than a year ago, it is no surprise that Rightmove report the time taken to sell a property has fallen to yet another record low – just 36 days from marketing to Sold Subject to Contract (SSTC). Although the volume of new build homes to the market is increasing, there is still ground to make up from the market closure last year, with new supply to the market some 26 percent lower than in 2020, and down 33 percent on 2018/19 (Zoopla). Now the stamp duty savings for highervalue properties has eroded, a greater proportion of market activity is now in the mass market sector, buoyed by buy-tolet and first-time buyers. Zoopla report buy-to let demand is up 21 percent to date in 2021 versus 2020, while many first-time buyers are benefitting from the increased availability of high loan-to-value mortgage products in the marketplace.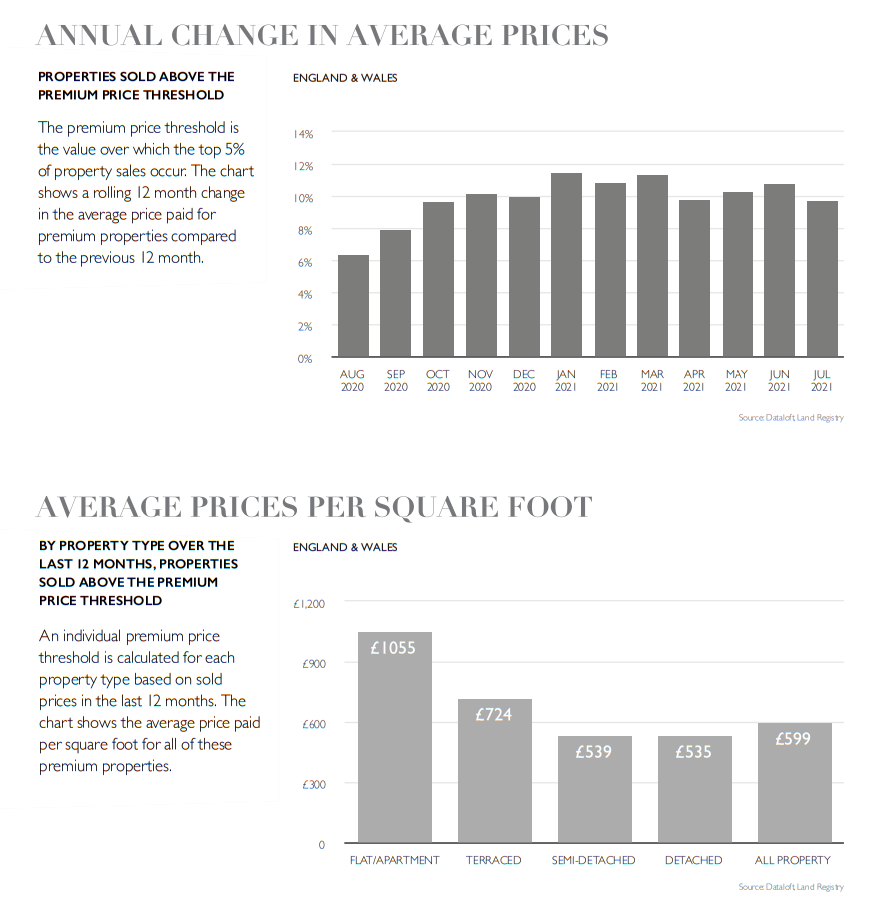 Are you hoping to take advantage of the high demand for property from buyers? Get in touch with your local Fine & Country agent to sell your home today.